A Reformed Guide to Understanding the Book of Revelation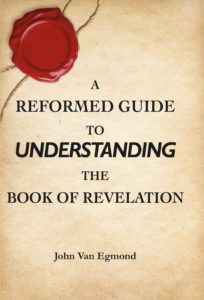 About This Book
I wrote A Reformed Guide to Understanding the Book of Revelation because I desired for my fellow Christians to read a user-friendly book that would enable them to better understand and to benefit spiritually from a biblically-based study of the last book of the Bible. This book begins with an extensive Introduction (including four important addendums) that I believe will be of great benefit to my readers as they prepare themselves for this study.
In this Introduction, I provide my readers with valuable tips on how best to understand the Book of Revelation including its prophecy, imagery, and symbolism. We will see that the prophecies contained in the Book of Revelation were given by God to His Son Jesus Christ, and then transmitted by Christ Himself to an angel, and then by this angel to the Apostle John by way of numerous visions.
In this book, I provide an overview of what is contained in each of the twenty-two chapters of the Book of Revelation and how each chapter relates to preceding and subsequent chapters. After this overview, I provide the interpretative suggestions on a verse-by-verse basis of Reformed authors of commentaries, books, and sermons, all of whom I believe have an excellent understanding of the Book of Revelation. I have used the most thorough and comprehensive Reformed commentaries ever written on the Book of Revelation in compiling the expository notes contained in this book.